All your beer are belong to us!
Tallgrass Brewing company has created the perfect drink for when you're chilling out, feeling nostalgic and kicking back with some NES or Commodore 64 games - 8-Bit Pale Ale.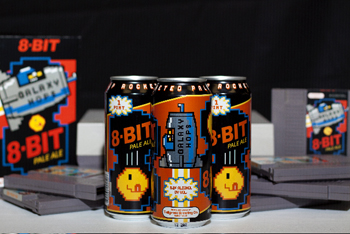 Just like those classic video games we all grew up with, 8-Bit Pale Ale is spectacularly simple at first glance yet remarkably fun and complex when you get into it.  Our Hop Rocket infuses the character of Austrailian grown Galaxy Hops into an American Pale Ale, giving a unique tropical, almost melon aroma in a classic American style.

ABV: 5.2%
IBU: 40
Malts: 2 Row, Victory, Vienna & Munich
Hops: Magnum, Centennial, Cascade & Galaxy
You'll have to visit the Tallgrass Website to see if the beer is available in your area.